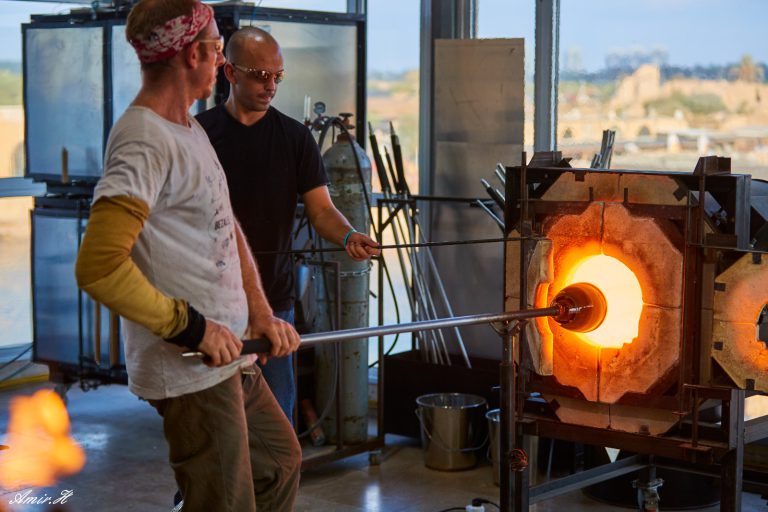 At the glassblowing workshop everyone works together. Use liquid glass and work as a team to create a glass piece with personal and professional instruction
?What can I create
Create a glass, a bowl, a vase, a plant pot, a lighting fixture, a sculpture and more, with your choice of a coloring technique
?How do we create it
Working as a team, each participant switches roles between coloring, heating, designing, and blowing. Even a large team can work on one piece
?How many pieces do we create
Every hour you create one piece at one workstation. For example in a two hour workshop with two workstations you'll create four pieces
Choose the option that is right for you in the booking system
?How many people can participate
2-30 participants
What ages can participate?
From age 5 to 125!
?When can we take our piece home
At the end of the workshop we'll place your pieces in the relaxation furnace for gradual cooling. They'll cool slowly for two days. Without the gradual cooling process, the glass can break.
After the cooling we'll sand the bottom of the glass and package it for shipping
Standard shipping inside Israel takes around 3 weeks and is included in the price of the workshop. If you'd like to expedite shipping, 5 day shipping to Tel Aviv will cost 250 NIS. International shipping cost is 750 NIS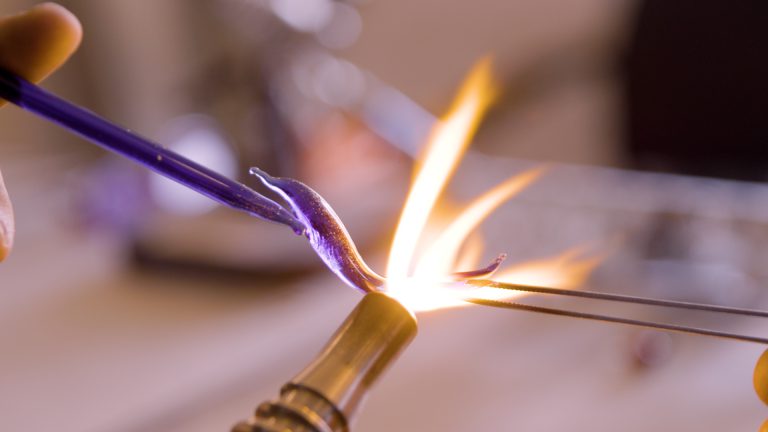 Jewelry & Miniatures Workshop
At the Jewelry and Miniatures workshop each participant works with their own burner and creates their piece (or pieces) by melting, gluing and designing glass. The workshop is relaxing and pleasant
What can we create?
Create a pendant for a necklace, earrings, a miniature animal or a flower
How do we create it?
Each participant gets their own burner and glass rods. You'll receive instruction on the shaping technique and from there you can design it the way you like. Each participant will create their own piece
How many pieces will we make?
Each participant will create one piece at their own private workstation in one hour
How many people can participate?
2-4 participants
What ages can participate?
From 10 to 125!
When can I take my glass piece home?
After the workshop the glass will cool down for about 30 minutes and then it'll be ready to take home
While the glass is cooling down enjoy some refreshments by the sea